Texas Military Forces
Hall of Honor
Louis A. Howard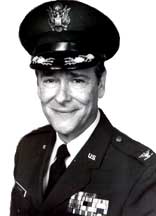 Colonel Louis A. Howard was a veteran of the United States Naval forces and WWII, prior to his commissioning into the Texas Air National Guard in 1952. During the course of his thirty years of distinguished service with the Texas Air Guard, Colonel Howard founded the 221st Radio Relay Squadron and the 254th Combat Communications Group.

Colonel Howard helped to develop the total force concept, redefining the role of the 254th Combat Communication's Group, by moving them forward to provide responsive and extensive communications support and assistance to the United States Air Force. Through his tireless efforts, the 254th Combat Communications Group became the first such Air National Guard unit to provide full support of a major, Joint Chief's of Staff exercise.

Colonel Howard pioneered numerous operational concepts and technical innovations that became evident within the expanded utilization of Air National Guard Combat Communications Groups. His untiring efforts and participation in Air Force training exercises such as Brave Shield XII, Gallant Crew 77, Team Spirit and Bold Eagle 82 continually improved his unit's readiness and performance.

As a graduate of Southern Methodist University, Colonel Howard developed an uncommon sense of selflessness, and served as president of the National Guard Association of Texas, secretary of the National Guard Association of the United States, Chairman of the American Red Cross and was a Councilman and the Director of Civil Defense for the city of Garland, Texas.

His military awards include the Armed Forces Reserve Medal, Air Force Longevity Service Award, National Defense Service Medal with Bronze Star Device, Air Force Commendation Medal, Meritorious Service Medal and the Air Force Outstanding Unit Award.

Colonel Howard's impeccable character and prestigious record of service and accomplishment reflect the highest credit upon himself his family, the State of Texas and the Air National Guard.

[ PREVIOUS | CONTENTS | NEXT ]
Contact the Texas Military Forces Museum