Texas Military Forces
Hall of Honor
Henry C. Symth, Jr.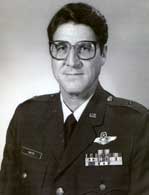 Major General Smyth Jr. was Commander of the Texas Air National Guard from 1981 to 1983. Prior to that assignment he served as Chief of Staff at the Texas Air Guard Headquarters (1979-1981).

His flight experience included over 7,000 hours of flying time in over 60 aircraft. The aircraft included military fighter planes, interceptors, transport, troop carrier, tanker, rotorcraft-helicopter and FAA commercial planes. During his military career he served in Korea, Japan, SE Asia and Europe. From 1967 to 1977 he completed twenty-five deployments to Europe serving as either the Operations Officer or Commander of Operation Creek Party. He was in continues flight status from 1951 to 1984.

General Smyth in his civilian career was employed with Bell Helicopter Textron in Fort Worth Texas from 1956 to 1992. His final role with them was as Director of the V-22 Osprey Program and Chairman of the political action committee. Other roles and duties at Bell included flight test engineer, design engineer and project engineer. He received BS in Mechanical Engineering from Virginia Polytechnic Institute & State University in 1949.

After his retirement he expanded his role and contribution to the community. He worked closely with Congressman Joe Barton serving as his chair of the National Security Advisory group and on the Service Academy Selection Board He also worked with the Executive Service Corp as a consultant. This organization is made up retired business executives who provide assistance and guidance to non-profit agencies needing help in planning and organizational management development. He also served as Board President of Tarrant Council of Alcoholism and Drug Abuse.
[ PREVIOUS | CONTENTS | NEXT ]
Contact the Texas Military Forces Museum