36 Division Special Troops
Officers and Headquarters Detachment

Headquarters and Headquarters Detachment, Special Troops, 36th Division, were organized in San Antonio April 1, 1937. Prior to this time the 36th Division was not authorized these units.
The first Commander was Major Henry Lee Taylor, who has remained in command during the entire history of the units. Captain Clay McFarland has served as Adjutant of Special Troops and as Commander, Headquarters Detachment, for the entire time except six months during 1938, when he served as Commander, Headquarters Detachment, 36th Division, in addition to his duties as Adjutant. Lieutenant George Uhl was the first Supply Officer, but after a few weeks, he returned to the Field Artillery.
First Lieutenant Jack L. Rhodes served as Supply Officer for two years and Lieutenant Sidney F. Lahourcade has served as such one year.
Special Troops Headquarters performs the administrative functions of a regimental headquarters. The Detachment is divided into a Supply Section and an Administrative Section. Its personnel receives all of the basic training of infantrymen and, in addition, specialist training as clerks.
Clay McFarland
Captain
Adjutant and Commanding
Headquarters Detachment
Sidney F. Lahourcade
First Lieutenant
Supply Officer
COMMISSIONED OFFICERS
Major
. . . . .
Henry Lee Taylor
Captain
. . . . .
Clay McFarland
First Lieutenant
. . . . .
Sidney F. Lahourcade
NON-COMMISSIONED OFFICERS
Staff Sergeant
. . . . .
Eanes B. Brophy
Staff Sergeant
. . . . .
Loyd O. Wolcott
SERGEANT
Brown, Reuben W.
CORPORAL
Brown, Reuben W.
PRIVATE FIRST CLASS
Mauney, Edgar W.
PRIVATES
Gant, Cleo E.
. . . .
Laux, Edwin F.
Smith, Carl Houston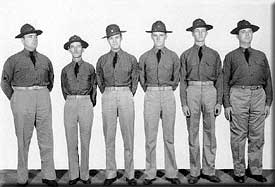 L.O. Wolcott, E.B. Brophy, R.W. Brown, E.N. Garner, E.W. Mauney. E.F. Laux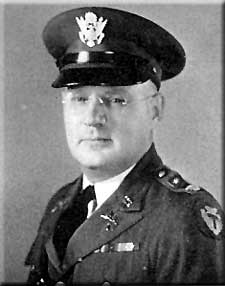 HENRY TAYLOR
Major
Commanding
Image Galleries
Headquarters Detachment
San Antonio
Headquarters Company
San Antonio
36th Military Police Company
San Antonio
36th Signal Company
San Antonio
36th Tank Company
San Antonio
111th Ordnance Company
San Antonio
Medical Department Detachment
San Antonio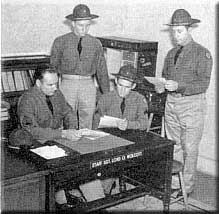 Supply Section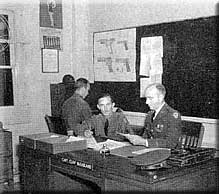 Administrative Section
Instruction in Map Reading