MAY OFFENSIVE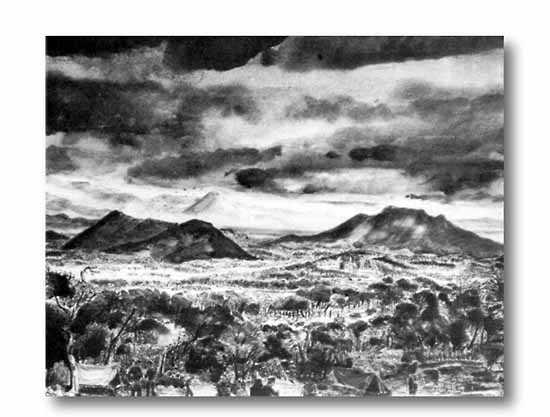 36th Division Artillery helped soften objectives of 85th Division Infantry near Minturno as big push began.
The night of May 11 marked the beginning of a full-scale Allied offensive in Italy, designed to tear down the last barriers before Rome. For the opening phase, an attack against the strong Gustav Line covering Cassino, all Allied artillery that could be spared was used. The four battalions of the 36th were sent into the Minturno sector to support the 85th Division, while dummy pieces were set up in the rear area at Qualiano to mislead the enemy.
BEING BRIEFED before taking off to spot artillery targets are pilots: L. to R.: S/Sgt. Raymond H. Porter, Lt. Artie T. Svoboda, Lt. Carl A. Bergman, Lt. Wallace T. Higgins.

At 2300 a heavy barrage signaled the opening of the attack; surprise was complete and initial advances were scored. Hard fighting ensued for several days but by the 17th, the left side of the enemy's defense line had been breached and the success of the attack assured. With its mission completed on this front, Division Artillery returned to Qualiano to await shipment to Anzio where the second phase was soon to get underway.

Upon arrival at the Beachhead, two battalions, the 131st and 155th, were immediately sent to the 1st Special Service Force attacking on the right flank of the beachhead. The 132nd and 133rd prepared to lay down their fires for the 3rd Division whose objective was Cisterna.
The Beachhead breakout was launched at 0730, May 23, with only slight progress reported the first day. Continued strong pressure on the Germans during the second day forced the fall of Cisterna. Beyond Cisterna, Cori, too, was taken. The enemy ring of steel which had enclosed the Allied forces was broken. The 36th, in reserve during the first days of the offensive, was committed May 27 before Velletri. Division artillery units then returned to their respective combat teams.