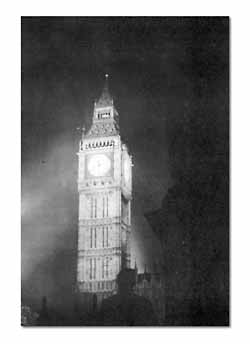 Probably the luckiest break a man overseas could hope for was a 30-day furlough to the United Kingdom. On this leave he might choose to remain in London or travel through other sections of England, Scotland, Wales and Ireland.
It was a London in battledress, -- not the London of Christopher Wren, Queen Elizabeth, Goldsmith or Raleigh. Famous structures were sandbagged and battle-scarred. GI's loved conversing with cockneys and sipping ale in ancient pubs, seeing a Terry Rattigan play, frolicking in Piccadilly, taking a boat ride on the Thames, or slipping away to Bournemouth for a dip in the ocean.
Meanwhile other Americans preferred the vales and cliffs of Scotland, Princes' Street and the castles and University of Edinburgh, or the good food to be had in Dublin.
The United Kingdom was a good deal more like the United States than the rest of Europe, and it was good to talk English again.
If a GI tired of London's hub-bub, he went down to the seashore and stayed at a Red Cross boardwalk hotel in restful Bournemouth.