"San Pietro (Maj. John Huston's APS film) is in every respect as good a war film as any that has been made; in some respects it is the best. A 30-minute record of one of the tense and bloody battles for the Liri Valley in Italy in late 1943, it is a story told chiefly in terms of the experiences of one infantry regiment -- the 143rd of the 36th Division.
"San Pietro's record of combat, its eye for terrain and for weather, its recognition of war as a science both wonderful and tragically inexact, are at least equal to any seen in films so far.
"Its narration, delivered with quiet irony, is repeatedly given life and resonance by images which show what 'heavy seasonal rains' look and feel like to get a truck through, what Texan 'elements' in a regiment are as people, something of what eleven hundred 'replacements' (in one regiment) mean in terms of death and survival.
"The huge close-ups of the helmeted heads of infantrymen as they move into battle, or rest after it while you are told that many of those you watch are soon to die, have the simple immediacy of good family snapshots -- and the enduring majesty of a heroic frieze.
"San Pietro is a very fine film. History is likely to recognize it as a great one."
---Time Magazine
"SAN PIETRO . . . AT THE BASE OF MT. SAMMUCRO."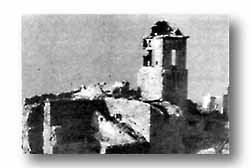 THE CATHEDRAL . . . BECAME A WAR-TIME CASUALTY.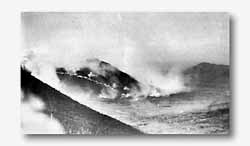 "NO AMOUNT OF ARTILLERY FIRE WOULD FORCE THE GERMANS TO WITHDRAW." SMOKE SHELLS COVER MOUNT LUNGO.