Thomas Jefferson Chambers received the rank of Major General in the Army of the Reserve from the interim government during the revolution. It was bestowed on the understanding that Chambers would raise, arm, and uniform emigrant volunteers from the United States. He did so, but neither he nor his recruits arrived in time for the fighting. His role as Major General of the Army of the Reserve continued into the republic. Pictured in this plate is the uniform he had made for himself. It was in most respects identical to the prescribed regulation one of 1839 with only a couple of variations. This is another reminder that the 1839 regulations did not create new uniforms, but were intended merely to standardize already existing uniforms. His bicorn hat is worn sideways here, but it could be worn fore-and-aft; sometimes, in both the American and foreign armies, especially during the Napoleonic period, even at a rakish sideways angle. The epaulets of Chambers' uniform had three stars, whereas the regulations of 1839 call for a single star on the epaulet for a general of any rank. The three stars signified major general in the Texas Army. They were worn on a shoulder strap on the undress uniform. A Texas brigadier general wore two stars. This was different from the American army, where a major general had two stars and a brigadier general had one. The other difference between Chambers' uniform and the 1839 regulations was his gold belt, instead of a black one.
There seemed to have been only two ranks of general in the Texas Army, major general and brigadier general. The dress uniform was the same except for buttons and sash. Each rank wore ten gold buttons, but the higher rank had them spaced by threes with a single one at the top on each side as shown here. The brigadier general had his spaced in pairs. A major general wore a gold sash, a brigadier general a red one. What is left of Chambers' uniform and regalia is on public display at the San Jacinto Monument near Houston: one epaulet, the belt and sword shown, plus a martingale ornament from his horse equipment. The only other Texas uniform pieces extant, Sidney Sherman's coat and vest (worn during the revolution) are also at the San Jacinto Monument.
Rumor from a well-placed source has it that the rest of Chambers' uniform, in remarkably good condition, is also in the San Jacinto Monument, but kept in storage. In response to an inquiry about this, the museum's reply curiously didn't confirm or deny the existence of the rest of the uniform. It merely confirmed that the components mentioned above, as well as Sherman's coat and vest, were on public display.
Like Felix Huston, General Chambers served under all of the flags of Texas. Shown here is the lone star banner.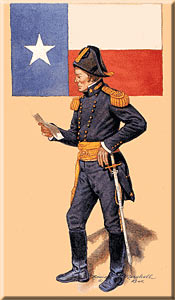 Text and images copyright © 1998 by Bruce Marshall. All rights reserved.