A variation of the full dress uniform was red jackets for musicians (these were usually trumpeters or buglers). All else, including the bob-tailed cut of the jacket, was the same as for other cavalry troopers. These red jackets were definitely worn because they show up regularly in the inventories. The distinctive red musicians jacket was also a feature of the U.S. cavalry of the period.
Like the troopers in Plate 11 and Plate 14, the trumpeter carries an Ames sabre in a browned scabbard. Two hundred eighty of these sabres were made for Texas by N.P. Ames of Springfield, Massachusetts, under a contract signed by Texas agent William Henry Daingerfield, February 4, 1840. They were the U.S. Model 1833. The only difference between the ones used by the U.S. cavalry and the Texians was that the Texas version had the words "Texas Dragoons" engraved on the blades and a lone star on the hilts.
The designation 1st Cavalry on the flag indicates the First Texas Cavalry Regiment. This regiment was never up to full strength, however. Its actual size was probably only about a battalion (between one hundred twenty to four hundred men).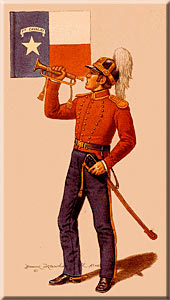 Text and images copyright © 1998 by Bruce Marshall. All rights reserved.