The gray fatigue uniform was also used extensively. Like the infantry version, trim was black, the winter version was kersey cloth, the summer jacket cotton and the summer pants white duck. Cavalry buttons and buckles were gold, rather than the infantry white metal. The sword knot and strap were buff colored.
Behind is the flag of the First Cavalry Regiment.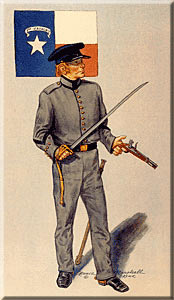 Text and images copyright © 1998 by Bruce Marshall. All rights reserved.