The cavalry regulations of 1839 also called for white cotton drilling for summer. These were on the same pattern as the gray fatigue uniform except much plainer. Many are shown in the quarterly inventories. This uniform was undoubtedly copied from the U.S. Army summer whites of the same time frame."
The trooper wears one of the brown cotton shirts, purchased in addition to the white ones used more frequently. His stock is black leather. The blue cap seems to have been used with all undress and fatigue uniforms.
Shown in addition to the cavalry regimental flag is a cavalry guidon. Each company carried one with its initial centered in the star. The cavalry flag was two feet six inches wide and two feet four inches high. The guidon was three feet from the lance to the end of the slit of the swallow-tail, and two feet high. The lance for both flag and guidon was nine feet tall, including the spear and ferule.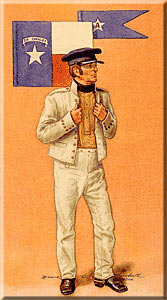 Text and images copyright © 1998 by Bruce Marshall. All rights reserved.