Captain was the highest official rank in the navy. But the senior captain of the second navy, Edwin W. Moore, was always called Commodore. The uniform for captain and Commodore was one and the same.
The full dress uniforms had the tailcoat shown but two variations in trousers. The one shown is the more formal, with nearly obsolete knee-breeches. Plain white pantaloons over "short boots" were an alternate. The pantaloons could also be blue over "half boots" (probably the same as "short boots").
There were two versions of the undress uniform. The first should perhaps be described here as it was identical to the full dress uniform except for the elimination of the oak leaf trim, and thus really an only slightly modified version of full dress.
Commanders wore the same formal dress as captains, except for the oak leaves, the pennant embroidered on the collar was smaller, and they had only three buttons on cuffs and under pocket flaps instead of the four for captain.
Shown behind is the Hawkins naval flag, though it had supposedly been retired in 1839. The Hawkins flag and the variant flag (a cross between the Hawkins and lone star flags) continued to be used because of their deceptive resemblance to the American flag. This was helpful in confusing Mexican ships. Still further deception with misleading flags is suggested by the 1841 quarterly returns of Moore's flagship, the Austin. On board were ensigns and pennants of the United States, Britain, France and even Mexico. Apparently Moore placed some value on the saying "All is fair in love and war," at least the latter part.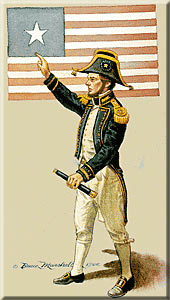 Text and images copyright © 1998 by Bruce Marshall. All rights reserved.