As mentioned in the description in Plate 16, there was an undress uniform that was virtually the same as the full dress uniform. The other version, shown here, was probably the uniform worn most when at sea: a double-breasted frock coat with standing collar. Epaulets as in the full dress version were regulation, but the more modest shoulder tabs shown in this plate were probably more commonly worn. In winter blue trousers were worn.
Most of the few Texas naval swords preserved appear to be ones the officers purchased personally as there is little conformity of style and they are from several makers. A contemporary description of the sword of Commodore Moore says it was an elaborately decorated one with a big lone star on the hilt.
The captain holds a Patterson Colt revolver in his left hand. The navy was the first of the Texas forces to use the Patterson, which was the first Colt revolver. Virtually all histories of the Texas Rangers claim the Patterson was introduced into Texas by the Rangers, and first used in a skirmish with Indians at Enchanted Rock. This is false. "The Colt's pistols used by the Texas Rangers before annexation, were all supplied from the navy, after they had been in constant use in that arm of the service upwards of four years," Commodore Moore told the Military Affairs Committee of the United States Senate.
Another cherished Ranger myth bites the dust in these pages. Other correspondence reveals that the Commodore, as further directed, also turned over some of the navy's Pattersons to the Santa Fe Pioneers. Some of those Colts were captured by the Mexicans, while others were destroyed by the Texians rather than let such prized weaponry fall into the hands of the Mexicans.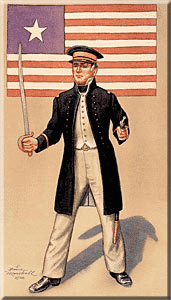 Text and images copyright © 1998 by Bruce Marshall. All rights reserved.