This midshipman wears the summer undress uniform. For winter the pants would be blue and he would wear a blue garrison cap."
His straw hat bears special notice. Sailor straws were traditionally black, usually waterproofed with tar or whatever. While Texas sailors wore the traditional black straw in winter, they also wore these unusual summer straws, apparently peculiarly Texian. According to Garland Roark and other sources, the summer straws were made by the seamen themselves from "hands of grass." This is confirmed by the navy inventories which show many "hands of grass" aboard. These straws were a hybrid between the traditional sailor straw and a Mexican sombrero. Whereas the regular black straw had a more or less straight brim, the Texas summer straw, which was natural straw color, had a brim that curled up hiding some or most of the crown. All straws had a black or navy blue ribbon with a single tassel, according to Roark. Hefter shows two tassels in his art works.
In addition to the Hawkins flag, the ship pennant of the Wharton is shown behind the midshipman.
The long hair shown here and in Plate 21 was apparently not uncommon among Texas Naval officers if we are to believe Francis C. Sheridan, who gave an unflattering description of them in his journal of a visit to Galveston and the Texas coast during 1839-1840. Sheridan found:
"The schooners are pretty vessels but I can't say the same for the others neither can I for the officers of the Texas Navy generally speaking. These take a delight, after the effeminate fashion of the French, in allowing the hair to grow down the back, which of all the damnable fooleries ever introduced is the most damnable. It is neither cleanly or becoming, and is infinitely more ridiculous than if they were to turn it up behind and stick a large tortoise shell comb with gold knobs on it, after the manner of women. But if it is bad when there is an artificial or natural curl, what is it when there is no curl at all and when their hair hangs down like the matted ends of a wet swab — and this is generally the case with these officers."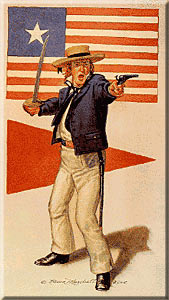 Text and images copyright © 1998 by Bruce Marshall. All rights reserved.