The blue jacket and bell-bottom trousers worn by the gunner shown here were the uniform of all seamen, though the gunners and other specialists had certain insignia to distinguish them, such as the buttons on the gunner's lapels. He wears the traditional sailor straw of most navies of that period. The untanned leather scabbard holds a sheath knife. Red vests were to be worn in winter.
Behind the seaman is the pennant of the steamship Zavala. The pennant for the schooner San Jacinto was apparently identical to that of the Zavala.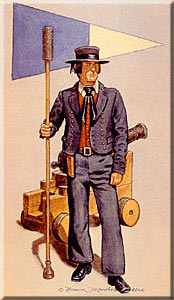 Text and images copyright © 1998 by Bruce Marshall. All rights reserved.