In August and September, during the closing days of the interim regime, the Texas agent in New Orleans, Thomas Toby and Brother, shipped a considerable amount of supplies for the Texas Army. Included were brown jackets, pants and shoes, plus 500 black leather caps. Undoubtedly these supplies were used by the republic. Most probably the brown and kip brogans were worn with the brown jackets and pants. All of the cartridge boxes were black, but the straps were most likely white U.S. Army surplus, as shown here and in Plate 1. Some might have been black. The best evidence is that the caps were the popular hunting style shown in Plate 1. But some contend the caps may have been the U.S. military model of 1833, nicknamed the "hogkiller," shown here.
Plate 1 shows the roundabout jacket as single breasted, whereas in this plate it is double breasted. Roundabouts of the period came in both styles, and with some variation of collar. But the Texas records do not reveal exactly which types were received by the Texas Army during this period.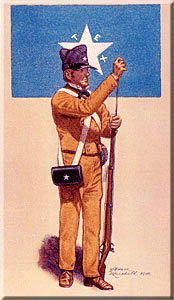 Text and images copyright © 1998 by Bruce Marshall. All rights reserved.