In foul weather everyone aboard the ships wore this informal but practical clothing, with minor variations.
The cap was a black southwester, a waterproof hat made of material such as oilskin or canvas with a broad brim behind to protect the neck. These tarpaulin hats were a very traditional seafarers necessity. They are still worn today all over the world. They appear in the inventories, along with pea jackets such as the one shown. The pea jackets are also shown in the requisitions for the marine guards on the ships. A contemporary sketch by midshipman Edward Johns of the Texas Navy shows both the southwester cap and the pea jacket. His sketch also shows another person in a long overcoat reaching almost to his ankles, possibly an officer. While brass buttons are shown here, it is possible the buttons may have been of horn or bone. The Return of Slops and Small Stores of the Austin for the year ending December 13, 1840, show dozens of such buttons in stock, as well as regular gold (brass) ones.
Red flannel shirts show up in the naval inventories as well as white cotton shirts. No doubt the flannel shirts were for cold and inclement weather.
This person, whether officer or sailor, also has the long hair so detested by the traveler Sheridan.
The ship ensign behind is that of the flagship Austin. Illustrations for an article on the Texas Navy in the Republic of Texas by American West magazine and the Texas State Historical Association, as well as the designs in the archives, show all of the ship pennants as being triangular. But a sketch by a Texas Navy officer and a contemporary watercolor show the pennant on the Austin as being swallow-tailed, as shown here. Perhaps this was a variation permitted only for the flagship.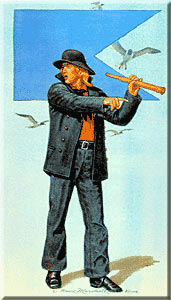 Text and images copyright © 1998 by Bruce Marshall. All rights reserved.