This is another of the United States Marine Corps surplus uniforms used by the Republic of Texas, according to Hefter. Both he and Marine Corps artist Colonel Charles Waterhouse show the light blue pants with the dark blue jacket for this time frame, about 1835 to 1842. Smith-Christmas, however, is of the opinion the trousers should be gray with a buff stripe for a sergeant. The inventories suggest that both types of trousers may have been worn by the Texas marines. Nor is it unreasonable to assume that the Texians may have done same alterations in style as might have suited their desire for some difference between their uniforms and those of the U.S. Marines.
The sergeant holds one of the many Patterson colt revolvers issued by the Texas Navy.
Behind is the Hawkins flag.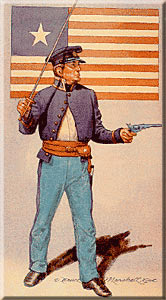 Text and images copyright © 1998 by Bruce Marshall. All rights reserved.