This is still another U.S. surplus marine uniform Hefter said was sold to Texas. According to Smith-Christmas, the Virginia state militia also got some of these surplus uniforms as well as Texas. But he differs again on the color of the trousers. In his color study Hefter shows them to be a lighter shade of green than the coat. Smith-Christmas contends they should be gray. No green pants turn up in the naval clothing inventories, but gray ones do. Thus gray is shown here. The collar and cuff trim, trim on coat tails and the epaulets was buff. The leg stripe for a commissioned officer or non-commissioned officer would also be buff. A green cloth cap is shown, rather than the shako depicted by Hefter, as such caps appear in the naval inventories, whereas no shakos are shown to go with the green uniform in the naval records.
This marine holds a Colt Patterson revolving cylinder carbine, caliber .55, Model 1839-1842. The navy acquired some of these and also some of the hammerless Colt Patterson revolving cylinder rifle, caliber .40, Model 1838-1842. This early use of Colt revolving pistols and long arms demonstrates that Commodore Moore, despite Texas' strained finances, was determined to provide its navy with the latest and most advanced developments in small arms. While the revolving pistols became highly popular over the years, Colt's revolving long arms never caught on. The reason was that a multiple miss-fire on a pistol was not serious; at worst the pistol might be damaged. But with a long arm, because the person firing it was supporting the barrel with one hand forward of the cylinder, a multiple miss-fire could cost him a hand. Some called it "Colt's revolving wheel of misfortune." The Colt carbine shown here, with its Texas star, is in the Winchester Museum, New Haven, Connecticut."
Behind the marine is the ship pennant of the schooner San Antonio.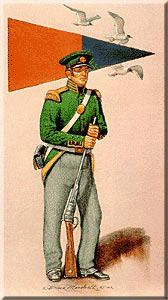 Text and images copyright © 1998 by Bruce Marshall. All rights reserved.