News of the Vásquez invasion in 1842 produced "intense excitement" in Galveston. Public meetings "attended to suffocation" mustered militia units, most prominent of which was the Galveston Coast Guards.
The Coast Guards, one hundred strong, were nattily turned out "with an eye to uniformity" in straw hats, red woolen shirts and white pants. Their arms were muskets and pistols, pikes and swords "but there was no scarcity of hatchets, tomahawks, and Bowie knives for close quarters if necessary."
On March 14, the Coast Guards, together with the fifty Galveston Fusiliers, set forth in the steamer Lafitte, accompanied by two small craft of the Texas Navy. They searched the coast for a rumored Mexican invasion fleet. A third group, the Galveston Guard, was left behind to defend the women and children.
Among the donations received by the volunteers from local citizens were a plentiful stock of ammunition, provisions and "small stores." These included Honey Dew tobacco, "segars" and "sundry other comforts." Among the sundry other comforts was a generous supply of liquor. The Coast Guards by unanimous resolution urged that the liquor be disposed of to buy more essential equipment. But somehow the liquor found its way aboard.
As they cruised the coast, alert for the non-existent Mexican invasion fleet, the volunteers fought boredom with song and the sundry other comforts. While champagne corks went "pop-pop-pop" and "bright claret" and whiskey punch flowed, the Englishman composed the Red Rover Song. It extolled the patriotism and prowess of the Coast Guards and warned of the doom awaiting any Mexicans they should meet. His shipmates, highly pleased, christened him "Blowhard" and promoted him from "waister" (a semi-useless helper) to sergeant.
Some three days after the Sea Fensibles (as they were also known) had "quaffed with ecstasy the last of the glorious liquid," they managed to lay their hands on a lone Mexican. Despite his protest that he was only a herdsman, the otherwise empty-handed warriors pronounced him to be a spy and prepared to take him back to Galveston as the single tangible trophy of their campaign. The "wily Mexican" proved to have too much "smartness," however. On the pretext of rounding up some beef for the return trip, he borrowed a fine riding mule, saddle and a lasso and disappeared over the horizon never to return. This left the trusting Texians "in no very good humor."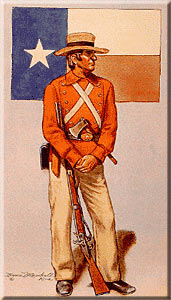 Text and images copyright © 1998 by Bruce Marshall. All rights reserved.