Prince Carl's militia was described by four contemporaries: his successor to leadership of the Adelsverein, Baron John Meusebach, Herman Selle, M. Maris, a Frenchman who wrote Souvenier d'Amerique, and Fritz Goldbeck, one of the early settlers.
The Baron said they wore "hats bedecked with a cockade of rooster feathers, gauntlet gloves, and long clanking sabres."
Selle remembered their uniforms as "long riding boots, gray woolen blouses, black velvet collars decorated with brass buttons, broad-brimmed hats trimmed with long black feathers, tilted back on their heads, swords buckled on, and armed with rifles
A translation of Maris' description in Souvenier d'Anterique by Yamile Dewailly, teacher of French at Austin Community College, says "the uniform consisted of high boots, gray pantaloons, gray blouse, and large white, broad-brimmed hat mounted by wild turkey feathers. Their arms consisted of a large cavalry sabre, a brace of horse pistols and a carbine 'Auswander in Texas'.
Supposedly there is a jäger rifle in the Witte Museum in San Antonio inscribed on its barrel "for the defense of the German settlers in Texas against the Indians." However, when a special trip was made to inspect it there, the management of the museum could not locate it.
Goldbeck, a fourteen-year-old boy with the original settlers, remembered "dark gray uniforms, swords swinging at their sides."
There are a few contradictions in the descriptions, such as what kind of feathers decorated their hats, and one said that they had rifles while another said carbines. Nevertheless, the descriptions are more than adequate for reconstructing the appearance of the New Braunfels militia.
Since Prince Solms had been an officer in the Austrian army the blouse would have probably been patterned after an Austrian military coat, according to Sam Nesmith, former Curator of the Alamo and researcher for the Institute of Texan Cultures, or possibly a vertically-pleated hunting frock like that shown in the only painting of the prince in which he is not wearing a metal breastplate. In that painting Solm's hunting frock is green or a grayish-brown. But his costume in that painting is not the militia uniform, though in some ways similar. Examine the background and you will see on a towering peak behind him a huge European castle-like structure of many rooms and stories. Undoubtedly the painting was made in Europe before the Prince came to Texas. It may well be, though, that the gray uniform of the New Braunfels militia was of quite similar cut, except for the collar and other minor details.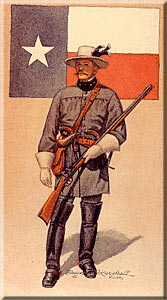 Text and images copyright © 1998 by Bruce Marshall. All rights reserved.