Felix Huston became Commander-in-Chief of the Texas Army, succeeding Thomas Jefferson Rusk, President Houston's first appointment to the command. Near year's end, Houston appointed Albert Sidney Johnston as Senior Brigadier General and Huston as Junior Brigadier General. This made Johnston commander. But when he attempted to assume command in early 1837 he was challenged to a duel by Huston. After an exchange of six shots Johnston was seriously wounded. Huston thus retained command for the time being by this unorthodox means. Later their positions were reversed and Johnston was commander with Huston serving under him, their differences apparently resolved.
Still later, in November of 1839, Huston won election to the position of Major General of the Militia over San Jacinto veteran Sidney Sherman. He served against the Comanches in the 1840s.
Throughout his involvement with the Texas military Huston was a firebrand, ceaselessly agitating for invasion of Mexico. He represented the more aggressive element of the military adventurers attracted to Texas during the revolution and the republic.
Described as "popular and capable" but also as "turbulent and overbearing," Huston apparently had no military experience prior to joining the Texas Army. He was a native of Kentucky who migrated to Mississippi before settling in Texas. Later in life, his ambitious plans for Texas expansion frustrated, he returned to the United States.
Huston had a waist-length portrait painted wearing the uniform shown in Plate 3. This would be an undress uniform rather than full-dress because it is single-breasted. But at what point in his career the portrait was done is not known. Thus this might be a self-designed uniform made when he was busy in the United States recruiting during the revolution. If so, he undoubtedly wore it to Texas when he arrived sometime after San Jacinto. It might also be of later vintage, but before 1839. The 1839 regulations, which are very detailed, designate double-breasted coats for both full-dress and undress. And the 1839 buttons for a brigadier general are spaced in pairs of two each, not as shown in Huston's portrait. There are other differences as well that clearly make this a pre-1839 uniform. The soft-top garrison cap, while not in his portrait, would be appropriate for a general in undress uniform either during the revolution or the republic. The sash for a brigadier general was red (yellow for major general).
A unique peculiarity of Texas uniforms was that such sashes were to be tied on the right hip. In almost every other army of the world the sash is tied on the left side. Texans have always enjoyed being different.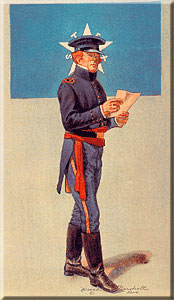 Text and images copyright © 1998 by Bruce Marshall. All rights reserved.