This elegant uniform had a leather jockey cap with plume that was undoubtedly copied from that worn by the United States dragoons. It is mentioned in the diaries of General Thomas Jefferson Chambers, who may have ordered them — at least a prototype — from a maker in Kansas City, Missouri. The tailcoat was a brilliant green with gold collar, epaulets and frogs. Trousers were an egg-shell white or buff color, probably nankeen. High black jackboots and brass spurs completed the uniform. We know exactly what it looked like, even the dragoon horse equipment, from a sketch made by William T. Rainey, who served in the Texas Dragoons in 1836. The original sketch is in the Corcoran Gallery in Washington, D.C. Rainey's service and his sketch are conclusive proof this uniform existed, was worn, and was not just a drawing board model.
The late Joseph Hefter did two color studies of this uniform but in one the spurs shown are white metal. Brass spurs are shown here as only brass ones are mentioned in purchases or later quartermaster inventories or regulations. Hefter says the uniform in the sketch is that of a "subaltern officer in one of the early units of the Texas Army of the Reserve." The design of this uniform can probably be credited to Chambers, who was a major general of the Army of the Reserve and, as his correspondence has shown, authorized procurement or manufacture of certain uniforms, some possibly from his own designs. His papers concerning uniforms frequently list "tunics of lindsey" and there is mention of "green Marion cloth for uniforms." This could well be the cloth for the dragoon coat, especially as there appear to have been no other green uniforms for the army. There is also mention of "dies for helmets ... mounting for helmet ... striking up helmet and valise." These almost certainly were for the dragoon helmet.
In the background is the Burnet flag, designed by David G. Burnet. It replaced the Zavala flag in early December of 1836. It remained the Texas national flag until 1839, when replaced by the lone star banner which served until the end of the republic. The lone star flag has continued to the present day as the Texas State flag.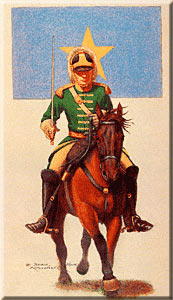 Text and images copyright © 1998 by Bruce Marshall. All rights reserved.