Until the American uniforms arrived the Rangers at Coleman's Fort had worn their own civilian clothing, mostly buckskins, according to Smithwick. The U.S. clothing consisted of "pantaloons and runabouts," not complete uniforms. What Smithwick calls a "runabout" was actually a roundabout, often called in the records of the archives a round jacket. It was popular with both army and navy uniforms as well as with civilians and common seamen. It is also known as a shell jacket in military parlance. It was waist length. The army version usually had a stand-up collar, whereas the naval and civilian versions had a collar similar to the World War II era "Ike" jacket.
Most of the uniforms sent to the fort were "rather under sized," according to Smithwick. Adjustments, some on the comical side, were made by some of the recipients or their wives in order for them to squeeze into them. This produced some interesting variations, Smithwick remembered:
"Isaac Casner, who tipped the beam at 200, got a suit that would have been snug for a man of 140. As the old fellow couldn't begin to get into them he took them on his arm and went round among the boys trying to effect an exchange. We all liked Uncle Isaac and the largest suits in the lot were brought out. He tried them on one after another, but like the 'Contraband's Song,' 'they wouldn't go half way around,' and but for the ingenuity of Mrs. Casner the old man's suit would have been a total loss. Clothes were scarce, though, so Mrs. Casner ripped open the outside seams of the pantaloons and set in stripes to extend them to the necessary dimensions, also setting a stripe down each sleeve and in the center of the jacket, with a false front to expand it over his aldermanic proportions. A stranger would have taken him for commanding officer on account of his stripes.

"Walfenberger, who would have measured six feet barefoot got a suit of which the bottoms of the pantaloons struck him about half way to his knees, the jacket failing to connect with them by full six inches, and his arms protruding a foot beyond the end of his sleeves. He presented a ludicrous appearance as, amid shouts of laughter, he stalked up and down like an animated scarecrow, trying to negotiate a trade. Failing in that, he pieced them out with strips of blanket and was quite as comfortable as the rest of us."
Since the uniforms didn't include headgear or footwear, these are shown as being what they ordinarily would have worn, a wide brimmed hat and moccasins, which were often decorated with beading Indian-style.
The ranger carries his long arm in a fringed leather sheath to protect it and keep his powder dry. He carries a Spanish gourd canteen. These gourds held about two quarts.
Coleman's Fort, also known as Fort Coleman, is shown in the background as Smithwick sketched it.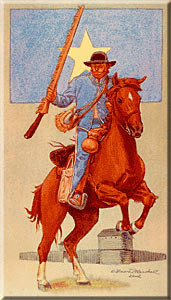 Text and images copyright © 1998 by Bruce Marshall. All rights reserved.