This is the dress-uniform of a Texas officer. We know from the observations of Colonel Stiff that the infantry dress uniform was worn by at least one unit, the Milam Guards, even before the regulations of 1839.
The officer's white plume is more elaborate than the tuft topping the enlisted shako. Each shako had the sunburst insignia with a lone star in its center. Centered in the star was a letter showing the wearer's company. Below the sunburst was a numeral signifying his regiment. Collar trim was silver lace. A captain had two "loops" on each side ending at a button. A lieutenant had a single loop on each side plus the button. A captain had two white leg stripes, a lieutenant one. A captain had one epaulet on his right shoulder, a lieutenant one on his left shoulder. Each wore a scale on the other shoulder. Sashes were crimson and tied on the right. The aguillettes were for commissioned staff only, and of twisted cord. Boots were Wellingtons.
The lone star flag behind was adopted the same year as the uniform regulations.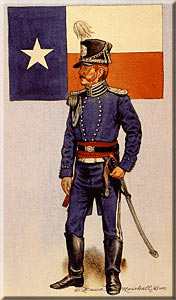 Text and images copyright © 1998 by Bruce Marshall. All rights reserved.