The shako of the enlisted men was identical to that of the officers except for a tuft of white instead of the feathered plume, and it lacked the tassels of silver cord and bullion. Collar trim was white on the blue uniform, not silver like on the officer shako. Shoulder scales and leg stripes were also white. Sergeants wore their chevrons on the right sleeve only, above the elbow. Corporals wore theirs also on the right sleeve only, but below the elbow. Non-commissioned staff and first sergeants wore a red sash. White trousers were worn in summer. The dress uniform of other infantry was no different from that worn by the Milam Guards.
The lone star belt plate shown in this illustration and the following one is not mentioned in the regulations but can be found in the Cressman contract of 1839.
The First regiment was equipped with Tryon flintlock muskets, Model of 1812.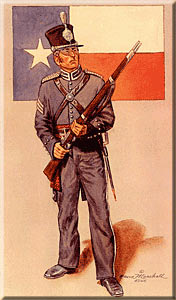 Text and images copyright © 1998 by Bruce Marshall. All rights reserved.