This was the uniform most used by the Texas infantry. The First Regiment wore it, or the summer version, in its campaign against the Cherokee Indians, when garrisoning the various frontier forts and camps on the frontier, and while building the military road that was to link various points within the republic. The fatigue uniform was worn by regulars also during the battle with the Comanche Indians at Plum Creek and possibly at the Council House fight. Color was gray, trim was black. Buttons for infantry were white metal. Depicted is a first sergeant, distinguished by the straight bar under his chevrons. As with the dress blues, only noncommissioned staff and first sergeants wore the red sash. Garrison caps for all branches of the army were dark blue, but sometimes the infantry wore on theirs a black silk oilcloth cover for weatherproofing. A gray greatcoat with cape top and stand-up collar was prescribed and a few turn up in the inventory lists.
This soldier is shown with a tin canteen. Canteens of both tin and wood were bought by Texas agents or manufactured for the army. A considerable number of pint tin cups were also purchased, plus haversacks, knapsacks, belts, cartridge boxes and belts for them, bayonets and scabbards. Except for the Texas plates (of white metal for infantry) on the buckles, boxes and their belts, these were made to U.S. Army specifications.
To the naked eye the only apparent difference between the fatigue uniforms for winter and summer was a change in summer to pants of white duck. However, the most important difference was the material of the summer jacket. The winter one, and the trousers that went with it, was of kersey cloth (a blend of wool with linen or cotton). The summer jacket of the Texas uniform was cotton, however, and it probably was a shell jacket rather than the tailcoat worn in winter. Thus the Texas summer uniform, unlike that of the American army, was cool and practical. The U.S. uniform, both top and bottom, winter or summer, was kersey. This was true throughout the remainder of the nineteenth century in American uniforms and also with most Confederate uniforms as well. Enlisted men in the infantry, as well as other branches of the army, wore black booties. These may have been, like their American counterpart, capable of fitting either foot.
There may also have been an all white fatigue uniform for summer, with the jacket very plain and without any collar trim.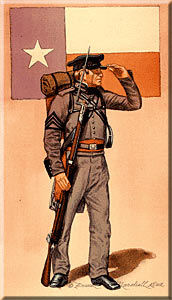 Text and images copyright © 1998 by Bruce Marshall. All rights reserved.