Volunteer Opportunities
Docents:
Help with tours and assist our visitors. This work can be done on weekdays or weekends.
Archives Collection

:

Help with cataloging and conserving original documents and objects in our collection
Library:
Help with cataloging books into the museum collection.
Clothing Collection:
Work with cataloging and caring for our clothing collection.
Leather Conservation:
Work on cleaning and conserving leather items from our collection.
Artifact Collection:
Help with cataloging and caring for artifacts.
Weapons Conservation:
For ongoing maintenance and cleaning of small arms.
Living History Program

:

Want to get a more involved experience?

Join our Living History group: G Company. For more information on G company please visit G Company's Living History Detachment directory.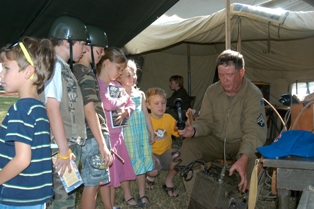 Give us a call
If any of these volunteer activities sound interesting to you, call 512-782-5394 and talk to Lisa Sharik, our Museum Registrar, about volunteering.
If you know of someone who would be a good volunteer, have them contact us.
We can also schedule "service projects" for Gold Award Candidates, Eagle Scout Candidates, and High School Students.
Volunteers can work as little as four hours a month or as many hours as they want.