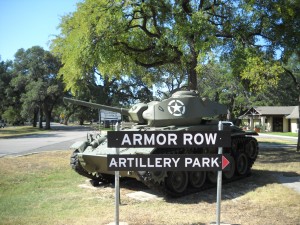 Outdoor exhibits display a remarkable collection of tanks, armored personnel carriers, artillery, self-propelled guns, engineer vehicles, helicopters and jet fighters. These exhibits are located around the museum itself and on the parade ground of Camp Mabry.
On Armor Row you will stand in front of: an MGR-1B Honest John tactical nuclear missile; M24 Chaffee light tank; M26 Pershing tank; M48 Patton tank; M60, M60A1 and M60A3 Patton tanks; M1 Abrams tank; M577A2 Command Post Carrier; M75, M59, M113A2 Armored Personnel Carriers; M84 Mortar Carrier; M114 Command and Reconnaissance Carrier; M901A1 Improved TOW Anti-tank Combat Vehicle; M106A1 Mortar Carrier; M981 Fire Support Team Vehicle (FIST-V); LT-LB Soviet Multi-purpose Tracked Vehicle captured in Operation Desert Storm; M578 Light Recovery Vehicle; M919 Mobile Concrete Truck; M105A2, M149A2 and XM107E1 trailers; M728 Combat Engineer Vehicle (CEV) and a D7F Bulldozer.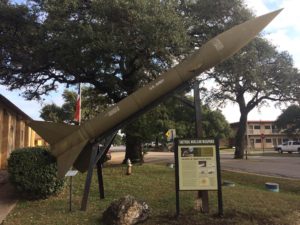 Along Artillery Park you'll see: an M7 Priest self-propelled gun from WWII and an M7B1 from the Korean War; a M56 "Scorpion" self-propelled gun; M42 "Duster" self-propelled AA gun; M110A2 8-inch self-propelled heavy howitzer; M108 self-propelled howitzer; M44 self-propelled howitzer; French 75mm mountain howitzer;  M101 105mm U.S. howitzer;  American M5A1 3-inch anti-tank gun; German 10.5 cm light field howitzer; M1A1 4.5-inch Field Gun (U.S.) and a Soviet M1938 122mm howitzer.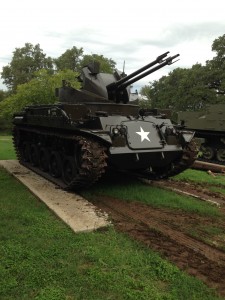 Visit the parade ground to see: an F-16, F-86D "Saber" fighter jet; an F4C Phantom II fighter-bomber; an AH-1 Cobra attack helicopter; UH-1M and UH-1H Huey utility helicopters; an M2 155mm "Long Tom" gun (U.S.) from WWII and a Soviet M1946 130mm Field Gun captured in Iraq during Operation Desert Storm.