The museum houses items related to the service of the Texas Army, Air and State Guard from 1910 to the present day.  In general, we do not have official documents related to the Forces when they were in Federal (United States) service as they were for WWI, WWII, Korea and the current Global War on Terror.  We have been gifted documents from various individuals which cover part of these time periods, but they are hit and miss.
We do NOT have personnel files. For solders who served in the Texas National Guard between 1903 and the present day their files can be found at Retained Records in Building 34 on Camp Mabry. Call 512-782-5164 for more information.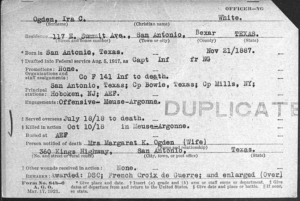 We have the original World War I card files on all soldiers who joined the military in Texas. In addition to the soldiers name, address and serial number these cards list date of induction, units, rank, overseas service, and if the soldier was wounded.  Navy , Marine Corps and Nurses are included.  While the originals are held in the museum the cards can also be found online at FamilySearch.org: WWI Texas Soldier Records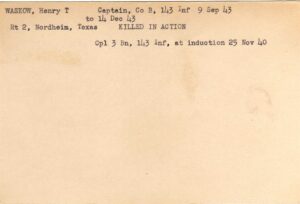 For WWII, we have a card file for members of the 36th division, no matter what state they came from. Many of the cards just have the soldier's name, address, and dates of service, and unit. Some have a little more service information. These cards are in the process of being added online. WWII 36th Infantry Division Online Database
The museum maintains a research library of 6000 books, on military history or Texas military history. In addition, an extensive Field and Technical Manual library is also maintained.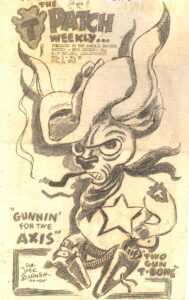 The Archives contain a wide variety of items from personal memories from 36th Division members, World War I journals, newspapers, histories of the Texas National Guard, 36th Division After Action Reports, World War I and II souvenir books, post card books, scrapbooks and a wealth of other material. The bulk of these items cover from WWI time frame through the 1980s.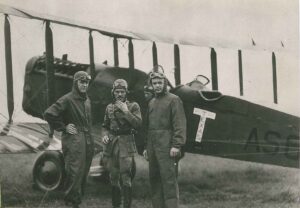 We also maintain a photo archives with 10,000 plus cataloged photos and many thousands more awaiting processing. These photos run the range from turn of the century panoramic photos to soldier's snapshots, to official Texas National Guard photographs.
The library and archives are open by appointment for research to all members of the public; please call (512) 782-5659 to schedule a visit.